How QED helps you
The Quartz Efficiency Driver (QED) is a digital solution that gives you the answers to the most important business questions regarding your organization and people, such as:
Where are the cost saving opportunities?
How can we redeploy people to get better performance?
How can we reduce complexity to speed up decision making?
How do I benchmark against other companies?
When the answers to these questions are clear, QED gives you a workflow tool that multiple people can use to manage the changes. This includes highlighting regulatory requirements for consultation/ discussions in the EU. QED works for both for one-off reorganizations and ongoing maintenance of your structure, making sure your organization stays lean and effective.
How QED works
Our solution draws data from your Enterprise Resource Planning system(s) and management reporting and adds intelligence and benchmarking. Our simple interface uses this data to show you clear org charts, maps and analyses of your structure. It is fully searchable and enables you to ask a set of business questions of any unit at any level.
Given the sensitivity of people data, all data is encrypted in rest and in motion. Both your data and our processing engine are hosted on our AWS EU servers (Ireland).
QED is available as part of Quartz Associates' consulting offering (enabling us to get to answers fast) and as a standalone product for companies. It can be implemented in a week. This is different to the months or years of other products. Our software developers are able to tailor QED to company-specific situations in a fraction of the time of larger providers – typically only a few days or weeks.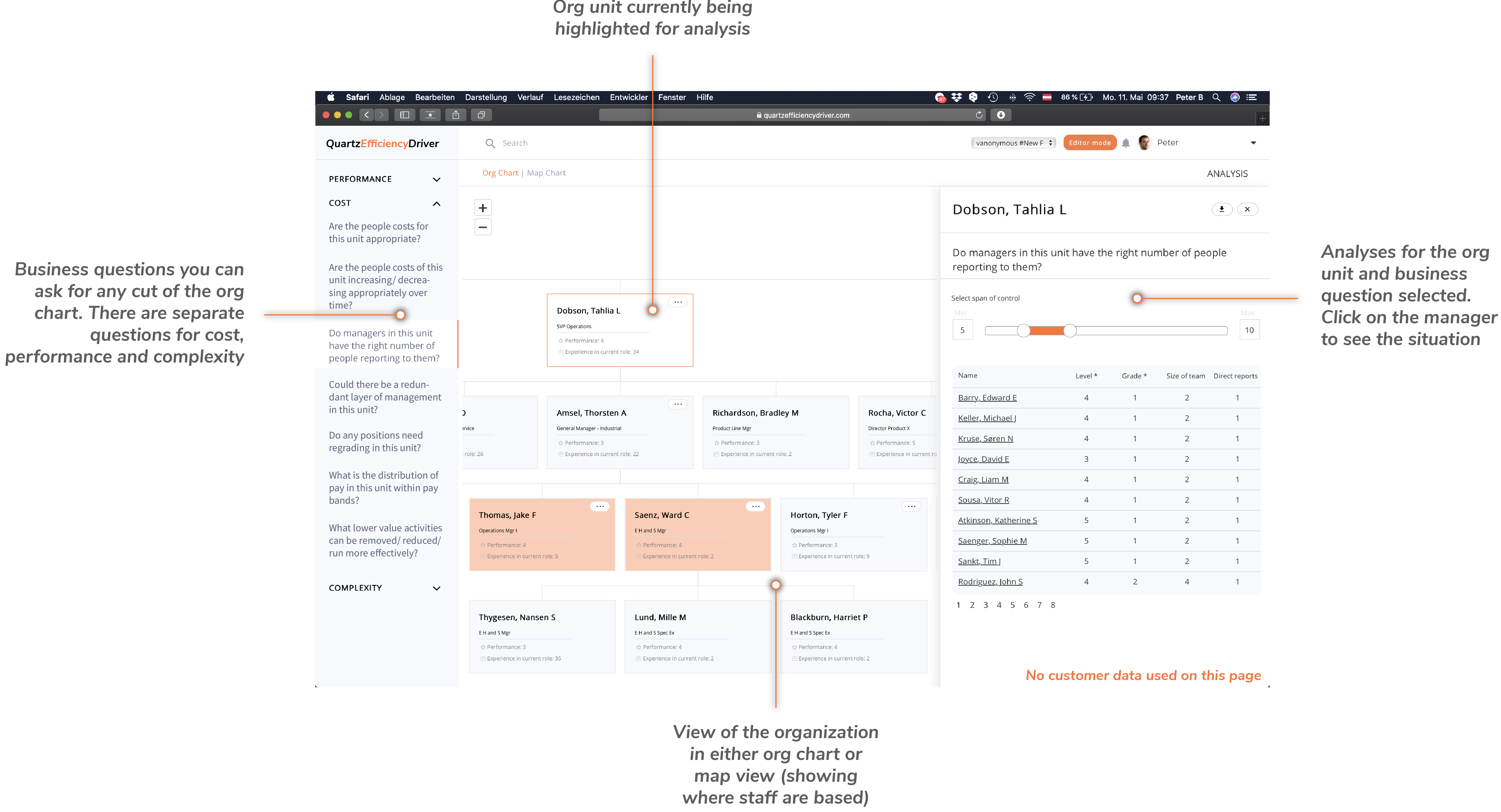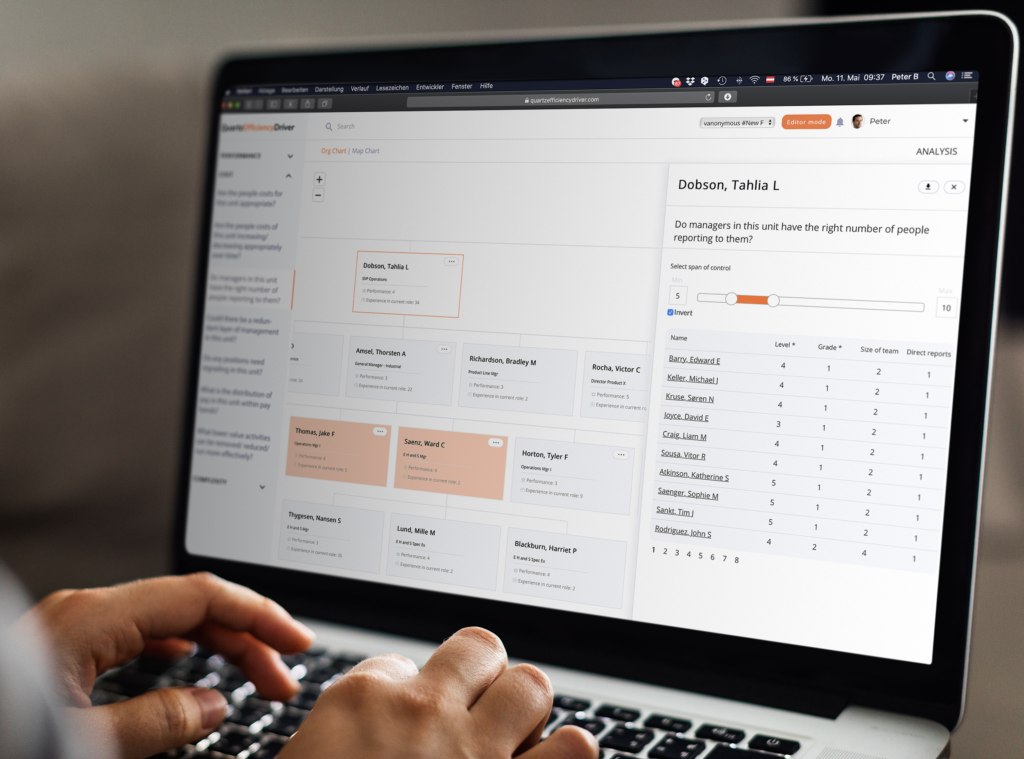 Management spans and layers
One of the most obvious sources of organizational cost reduction is to reduce the number of managers by increasing the average number of people reporting to each manager. After a long economic boom, many companies have managers with only 1, 2 or 3 people reporting to them. Most modern ERP systems will give you the average ratios of your management spans for different organizational units. But how can you act on this information to move from a ratio of, say, 1:4 to 1:7?
Our software provides you with an instant cost reduction estimate by considering not only the ratios but also the nuances of geography, new businesses, and different types of unit. It enables you to benchmark yourself against thousands of existing data points, set target spans of controls and identify the precise managers who fall outside your target: not only those with too few reports; but also those with too many (who are therefore not shaping their team's activities). Our Org Modeller workflow tool then enables you to plan and manage the changes required.
Scarce capabilities needed for growth
For growth companies, the right capabilities may be more of a scarce resource than financial capital. The data contained in your HR system is often relatively basic. It will say, for example, "programer" rather than specify whether someone's expertise is in Python or C++. It might call someone a trader but won't say whether they understand stocks, fixed income or financial exchanges. It is unlikely to tell you whether you have someone who speaks Swahili when you are planning your East African entry strategy.
QED enables you to identify capabilities in a subset of your organization, aggregate, analyze the data and blend it with your basic HR data to better understand your capabilities to deliver a strategic initiative.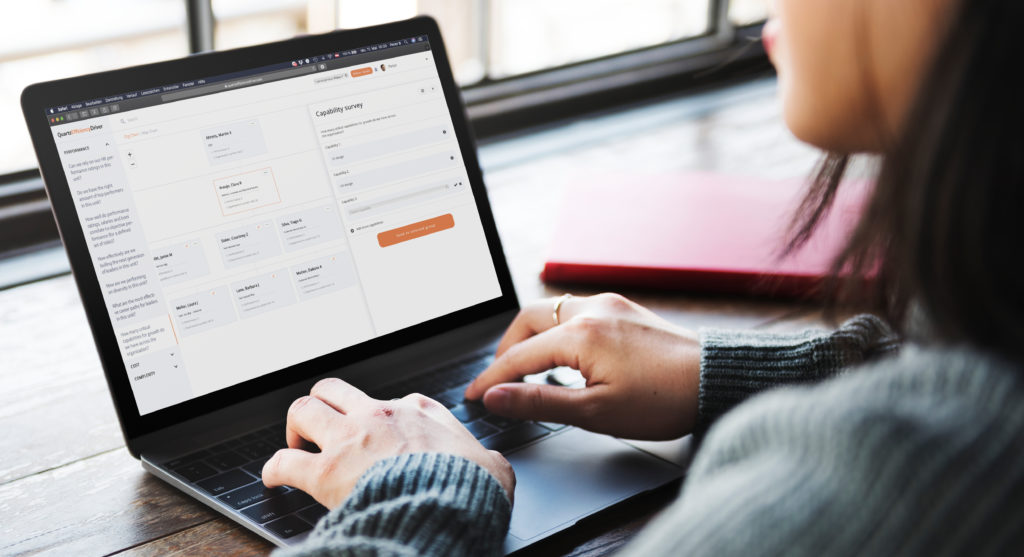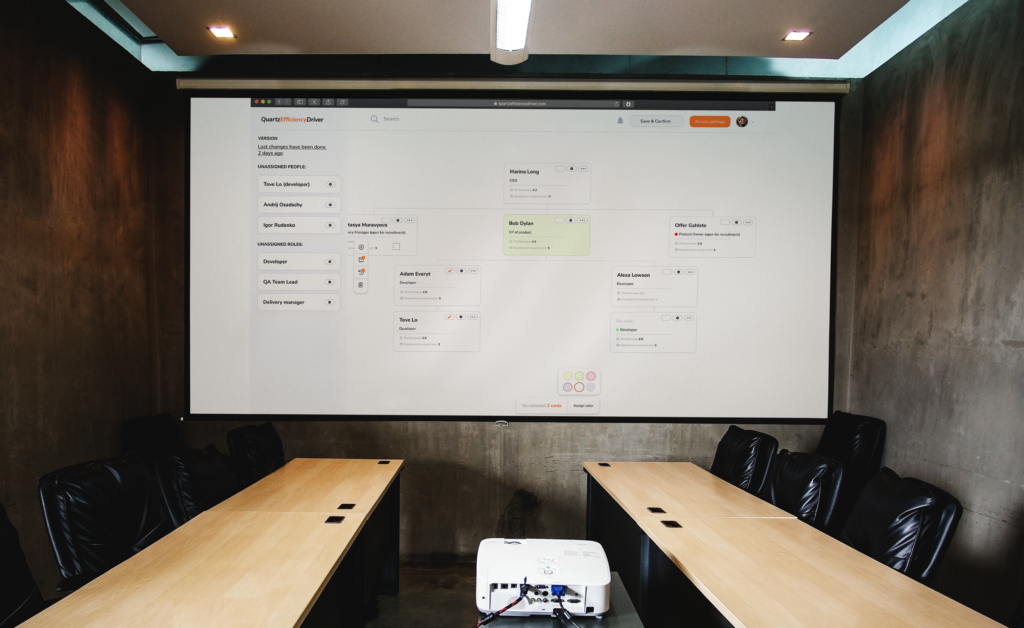 QED Org Modeller
We have distilled decades of organizational experience into the workflow tool Org Modeller – backed up by 2,500 cases on what makes organizational change successful. Restructuring a company takes 12 months on average. With the Org Modeller, the reorg can be done in less than half the time it usually takes you.
The Org Modeller lets you change the org structure by:
Assigning managers to work on different areas of the org chart
Moving roles, employees and contractors
Adding or eliminating roles
Changing roles, hierarchies, grades
Tracking the impact on people automatically, and eliminating errors: managing employment law risk and reputational damage
Tracking the financial impact of the changes
Uploading all changes to existing ERP systems
Contact us for a live demo
QUARTZ CASE STUDIES
Quartz Associates does not disclose its clients, but references are available on request